Little League Trading Pins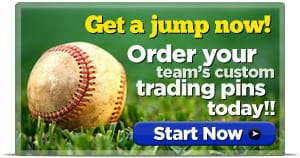 Little league baseball players can have tons of fun with one of the fastest growing hobbies in America. Little league baseball players can get in on the trading pins craze with their very own, custom made little league trading pins. Little league pins are custom made to your specifications. And these little league pins will be highly desired and will definitely make your little league baseball team players popular as these specialized pins, made just for them, will be highly desired by the other little league team players when it comes time for trading these little league trading pins. These Little League Pins can be made in a number of designs and we offer to you a number of options for your little leaguers to take advantage of when it comes to their specially designed, unique little league trading pins. These little league pins will make a great impression for any little league tournament or even the Little League World Series.
You can get our soft enamel pins, which stamps out the pins to where it leaves raised and recessed areas. The colors are then injected, by hand, into those areas, and the pins are fired to protect the colors. You can also choose our photo etched pins, in which a computer will etch surface areas for color application. The pins will then be fired to cure the color. We even offer you some custom options such as danglers, which attaches a moving piece to the pin to dangle. You also can get sliders, in which a piece of the pin moves in an sliding motion. Get spinners, in which a piece will be set stationary but can spin. You also can get blinkers, for an illuminated effect, or get glitter for a sparkling effect. You can even get bobble heads, which bounce around on your pins as well. Feel free to submit your own artwork, or get us to custom design these items for you. Call us toll free at 877-503-0256 or click the free quote link to get started on you custom little league trading pins.